Holidays to Croatia
Croatia is a beautiful country on the Adriatic Sea, known for its stunning coastline, historic cities, and vibrant culture.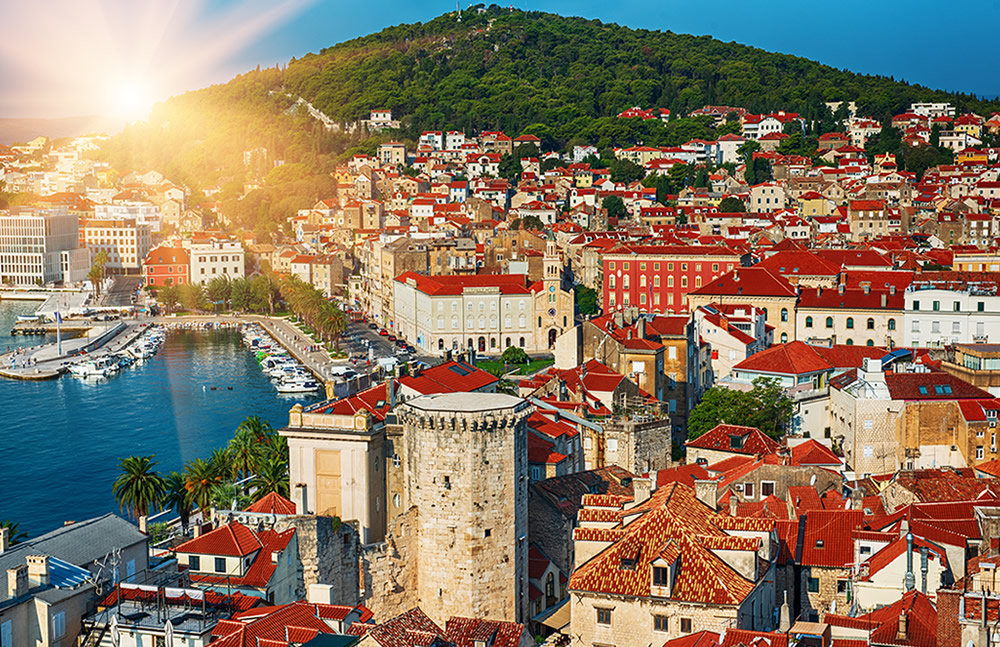 Here are some popular holiday destinations and tips for planning your trip to Croatia:
Dubrovnik: This historic city is known for its well-preserved medieval walls and beautiful Old Town. Wander the cobbled streets, visit the iconic Lovrijenac Fortress, and ride the cable car to Mount Srd for stunning views of the city and sea.
Split: This bustling city is home to Diocletian's Palace, a UNESCO World Heritage site, and the stunning Riva waterfront promenade. Take a ferry to the nearby islands of Hvar, Brac, or Vis for more adventures.
Hvar: This popular island destination is known for its nightlife, lavender fields, and historic sites like the Hvar Fortress. Explore the Pakleni Islands nearby for beautiful beaches and crystal-clear waters.
Plitvice Lakes National Park: This UNESCO World Heritage site is famous for its 16 interconnected lakes and waterfalls, surrounded by lush forests. Plan a day trip or stay overnight to fully experience the park's beauty.
Zadar: Visit this charming coastal city, which boasts ancient Roman ruins, the unique Sea Organ installation, and the Greeting to the Sun monument.
Rovinj: This picturesque town on the Istrian Peninsula features colorful buildings, cobbled streets, and the impressive St. Euphemia Church.
Krka National Park: Another stunning park with waterfalls, Krka offers the opportunity to swim in the crystal-clear waters beneath the falls.
Korcula: This island is known for its dense forests, beautiful beaches, and the historic Korcula Town, which is said to be the birthplace of Marco Polo.
When planning your holiday to Croatia, consider the following:

Best time to visit: The peak tourist season is between June and August, when the weather is warmest and the days are longest. For fewer crowds and lower prices, consider visiting during the shoulder seasons of May, early June, September, or early October.
Accommodation: Choose from hotels, hostels, private apartments, or vacation rentals through platforms like Airbnb or Booking.com.
Transportation: Croatia has a well-developed bus network, making it easy to travel between cities. Ferries and catamarans are available for island hopping, and renting a car is an option for more flexibility.
Currency: The local currency is the Croatian Kuna (HRK). Be sure to have some cash on hand for smaller establishments and transportation.
Travel Insurance: Travel insurance is essential regardless of where you are going or how long for. So wether its Single Trip Travel Insurance or Multi Trip Travel Insurance your need make sure you sort it before you travel.

Enjoy your holiday in Croatia and be sure to indulge in the local food, wine, and cultural experiences!
Weather in Croatia
The weather in Croatia varies depending on the region and time of year. The country enjoys a Mediterranean climate along the coast, with warm summers and mild, wet winters. Inland areas experience a more continental climate, with colder winters and warm summers.

Here's a general overview of Croatia's weather:

Summer (June - August): Coastal regions typically have hot and sunny weather, with temperatures ranging from 25°C to 30°C (77°F to 86°F). The sea temperature is usually around 23°C to 25°C (73°F to 77°F), making it perfect for swimming and water activities. Inland areas can experience higher temperatures, sometimes exceeding 30°C (86°F).

Autumn (September - November): As summer transitions to autumn, temperatures start to cool down. September can still be quite warm, especially along the coast, with average temperatures around 20°C to 25°C (68°F to 77°F). By November, temperatures can drop to around 10°C to 15°C (50°F to 59°F), with increased chances of rain.

Winter (December - February): Coastal regions experience mild winters, with temperatures ranging from 5°C to 10°C (41°F to 50°F). Inland areas experience colder temperatures, often dropping below freezing, with the possibility of snow, especially in higher elevations.

Spring (March - May): Spring in Croatia is generally mild and pleasant, with temperatures gradually increasing. March and April can still be a bit cool, with temperatures ranging from 10°C to 15°C (50°F to 59°F), while May can see temperatures of 15°C to 20°C (59°F to 68°F).

When planning a trip to Croatia, consider the type of activities you're interested in and the weather that would be most suitable. For beach vacations and water activities, summer is the best time, while spring and autumn offer pleasant temperatures and fewer crowds for sightseeing and outdoor adventures. Winter is ideal for skiing or visiting Christmas markets in the inland areas.
Croatian Food & Drink
Croatian cuisine is influenced by various culinary traditions, including Mediterranean, Central European, and Balkan flavors. The coastal regions are known for their seafood and Mediterranean-style dishes, while inland areas feature more meat-based dishes and hearty stews. Here's an overview of some popular Croatian food and drink:

Ćevapi: A popular dish in the Balkan region, ćevapi are small, grilled sausages made from minced meat (usually a mix of beef, pork, and lamb) served with flatbread, onions, and a red pepper sauce called ajvar.

Peka: A traditional Dalmatian dish, peka consists of meat (such as lamb, veal, or octopus) and vegetables slow-cooked under a bell-shaped lid covered in embers, giving the dish a unique, smoky flavor.

Pljeskavica: A spiced meat patty similar to a hamburger, pljeskavica is often made with a blend of beef, pork, and lamb. It can be served with a side of vegetables, ajvar, or stuffed inside a flatbread.

Pašticada: A Dalmatian specialty, pašticada is a slow-cooked beef dish marinated in red wine, vinegar, and a mix of vegetables and spices. It's typically served with gnocchi or pasta.

Crni rižot: Also known as black risotto, crni rižot is made with squid ink, giving the dish its signature black color. The risotto is usually cooked with seafood such as squid, cuttlefish, and mussels.

Burek: A popular pastry in the Balkans, burek is made with layers of thin, flaky dough filled with various ingredients such as cheese, meat, spinach, or potatoes.

Fritule: Small, deep-fried doughnut-like pastries, fritule are a popular sweet treat in Croatia. They're often flavored with rum, citrus zest, and raisins and dusted with powdered sugar.

Pag cheese: This famous cheese is produced on the island of Pag and is made from sheep's milk. Its distinct flavor comes from the unique vegetation on the island, which the sheep graze on.

Croatia also has a rich tradition of winemaking and produces a variety of local wines. Some notable Croatian wines include:

Plavac Mali: A red grape variety from the Dalmatian coast, Plavac Mali produces bold, full-bodied wines with flavors of dark fruit and spices.

Malvazija Istarska: This white grape variety is indigenous to the Istrian Peninsula and produces fresh, aromatic wines with flavors of citrus, green apple, and almond.

Pošip: Hailing from the island of Korčula, Pošip is a white grape variety that produces crisp, medium-bodied wines with flavors of citrus, apple, and tropical fruit.

Grk: Another white grape variety from the island of Korčula, Grk wines are characterized by their high acidity, floral notes, and flavors of citrus and stone fruit.

When visiting Croatia, be sure to indulge in the local food and wine, and don't hesitate to ask for recommendations from locals or restaurant staff for an authentic culinary experience.
Accommodation in Croatia
Croatia offers a variety of accommodation options to suit different preferences and budgets. Here are some popular types of accommodation you can consider for your trip:
Hotels: Ranging from luxury 5-star properties to budget-friendly options, hotels in Croatia cater to various traveler needs. Many hotels offer amenities such as swimming pools, spas, and restaurants.  Boutique hotels: For a more personalized experience, consider staying at a boutique hotel. These smaller establishments often feature unique designs, attentive service, and a charming atmosphere.
Hostels: Budget travelers can choose from a range of hostels in Croatia, offering dormitory-style or private rooms. Hostels often provide communal spaces, such as kitchens and lounges, where guests can socialize and share travel tips.
Apartments and vacation rentals: Renting an apartment or a vacation home can be a great option for families or groups of friends. These accommodations typically offer more space, privacy, and the ability to cook your own meals. Platforms like Airbnb and Booking.com provide an extensive list of rental properties in Croatia.
Villas: For a luxurious and private stay, consider renting a villa. Many villas in Croatia feature private swimming pools, gardens, and beautiful views of the sea or surrounding landscapes.
Guesthouses and B&Bs: Guesthouses and bed-and-breakfast establishments offer a cozy and home-like atmosphere. These accommodations usually provide a private room, often with an en-suite bathroom, and may include breakfast.
Campsites and glamping: For those who enjoy the great outdoors, Croatia has numerous campsites along the coast and inland. Camping options range from basic tent sites to more luxurious glamping (glamorous camping) facilities with comfortable amenities.
When searching for accommodation in Croatia, consider factors such as your budget, preferred location, and the type of experience you're looking for. Make sure to read reviews from fellow travelers to get an idea of what to expect from each accommodation option.
Travel Insurance
It's time to explore with total confidence with our competitive and comprehensive travel insurance underwritten by the AXA Group.
 

Emergency Assistance 24/7 - 365

 

Personal Accident Up to £25,000

 

Cancellations Per Person Up to £5,000

 

Emergency Medical Expenses Up to £15 million

 

Delayed & Missed Departure Cover

 

 Baggage Cover