Holidays to Kotor
Kotor, a stunningly beautiful and historic city nestled in a secluded part of Boka Kotorska bay in Montenegro, makes an outstanding holiday destination due to its rich blend of diverse attractions. The city is renowned for its well-preserved medieval old town, a UNESCO World Heritage site, that offers a journey back in time through its maze-like streets, grand churches, and old Venetian houses.

As well as its history, Kotor is surrounded by nature's allure; the dramatic cliffs of the Dinaric Alps provide a stunning backdrop to the city, while the azure waters of the Adriatic beckon water-sport enthusiasts and beachgoers.

For the adventurous, there's the challenging but rewarding hike up to the ancient fortress of San Giovanni, offering breathtaking panoramic views over the bay. Furthermore, Kotor's lively festivals, tasty Montenegrin cuisine, and warm, welcoming locals add to the city's charm, making it an irresistible holiday spot.
If you choose Kotor as your holiday destination there are many things to see and do, here are just a few:
Explore the Old Town: Kotor's Old Town is a beautifully preserved medieval city with a unique charm. As a UNESCO World Heritage Site, it is packed with history, from its narrow winding streets to its stunning squares. You'll want to see the Cathedral of Saint Tryphon and the Maritime Museum of Montenegro for insights into the area's rich history.
Climb the Fortress of San Giovanni: This challenging hike takes you up 1,350 steps to a 12th-century fortress located high above the city. The reward is worth the effort, with breathtaking views over Kotor and the Boka Bay.
Visit Our Lady of the Rocks: Take a boat trip to the artificial island of Our Lady of the Rocks. It houses a quaint church with an interesting history, along with a small museum.
Enjoy the Local Cuisine: Montenegrin cuisine is a blend of Mediterranean and Balkan flavors. Be sure to try local specialties such as 'burek' (filled pastry) and 'Njeguški pršut' (a prosciutto-like ham), accompanied by a glass of local Vranac wine..
Go Sailing: Rent a boat or join a tour to enjoy the stunning beauty of the Bay of Kotor from the water. Some tours even offer night cruises, which allow you to see the city's lights reflecting on the bay.
Attend the Kotor Festival of Theatre for Children: If you're visiting in the summer with children, this festival offers a variety of performances aimed at a younger audience.
Explore the Cat Museum: For something quirky, visit the Cat Museum, dedicated to all things feline. Kotor is known for its many stray cats, which have become a symbol of the city.
Visit Perast: A short drive from Kotor is the town of Perast, another beautiful location in the Bay of Kotor. It's quieter than Kotor, full of baroque architecture and offers a more laid-back atmosphere.
Local Markets: Visit the local markets for fresh produce, homemade goods, and souvenirs. It's a good place to mingle with the locals and learn more about their culture.
Remember, Kotor is a city that invites you to take it slow, soak up its history, and enjoy the stunning views. It's a place where you can unwind and let the magic of Montenegro take over. Remember before you unwind in the beauty of Kotor to make sure and get yourself sorted with travel insurance.  Get suitable insurance such as Single Trip Travel Insurance or Multi Trip Travel Insurance from Tripinsurer.com and then get that trip to stunning Kotor booked.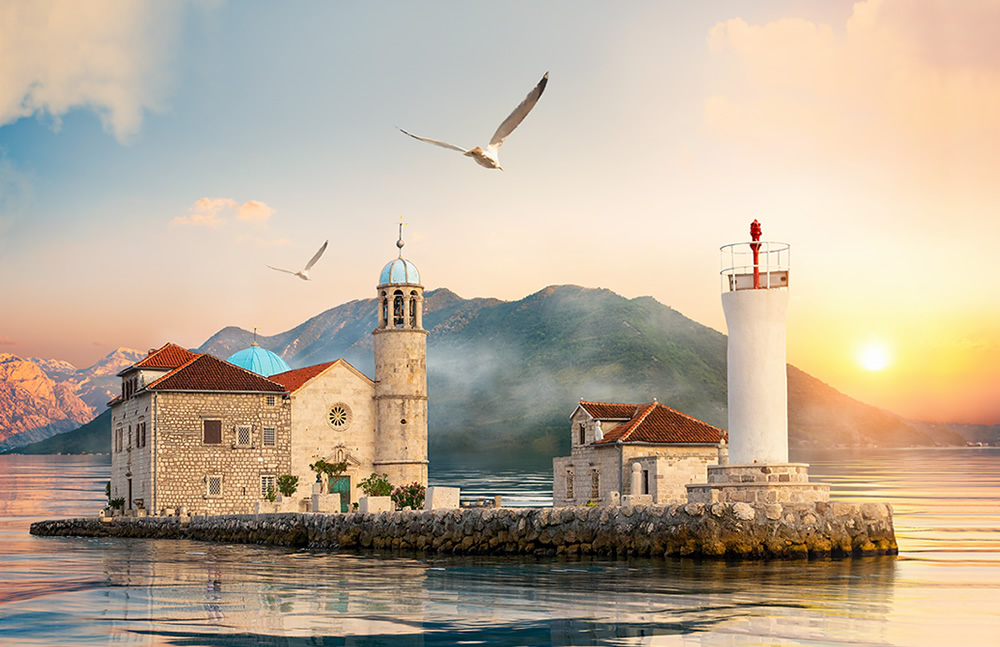 Photo: Church - Our Lady of the Rocks Island, Kotor

Weather in Kotor
The weather in Kotor, Montenegro, is Mediterranean, with warm summers and mild winters.

Summer (June - August): The summer months are typically hot and sunny. Average high temperatures range from 28°C (82°F) to 31°C (88°F), but can occasionally rise even higher. It's perfect weather for exploring the city and enjoying the beautiful beaches and water activities. Do remember to bring sunscreen and hats for protection from the sun.

Autumn (September - November): Autumn sees temperatures gradually decreasing. September can still be quite warm, with an average high around 25°C (77°F), but by November, high temperatures average around 16°C (61°F). The weather during this season can be a bit unpredictable with a higher chance of rain, especially in November.

Winter (December - February): Winters are mild, with average high temperatures ranging from 12°C (54°F) to 14°C (57°F). It is the wettest season of the year with regular rain showers. Snow is rare in the city itself but can be seen on the mountain tops surrounding the bay.

Spring (March - May): Spring weather is quite pleasant with increasing temperatures and reducing rainfall. High temperatures in March average around 16°C (61°F), but by May they've increased to around 23°C (73°F). This is a great time to visit to avoid the summer crowds and enjoy comfortable temperatures.

Remember, these are average temperatures and actual conditions can vary. It's always a good idea to check the forecast before your trip to ensure you're packing the right clothing.
Food & Drink in Kotor
Kotor offers a variety of dining options, from local Montenegrin cuisine to international fare, to cater to all tastes. The local cuisine is influenced by Italian, Greek, and Balkan traditions, offering fresh seafood, hearty meat dishes, and tasty pastries. Here are some of the dining options you can consider:
Restaurants in Old Town: The Old Town is filled with restaurants and cafes serving local and international cuisine. Be sure to try some local dishes like 'cevapi' (grilled minced meat), 'burek' (filled pastry), and 'pljeskavica' (Balkan meat patty).

Seafood Restaurants: Given its location on the Bay of Kotor, there are several excellent seafood restaurants in the city. Fresh catches of the day are common, and you can expect dishes like grilled sea bass, octopus salad, and mussels in buzara sauce.

Pizzerias: If you're looking for something familiar, there are several pizzerias around the city. Given the influence of Italian cuisine in Montenegro, the pizza is generally of very high quality.

Bakeries: Kotor has many bakeries offering delicious local pastries. Be sure to try 'burek', a flaky, savory pastry filled with cheese, meat, or spinach.

Wine Bars: Montenegro is known for its wines, especially Vranac, a deep red wine with a rich aroma. Several wine bars in Kotor offer wine tasting experiences, where you can sample local wines and learn about their production.

Farm-to-table Restaurants: Some restaurants focus on using locally sourced, fresh ingredients to create their dishes. These restaurants offer a unique opportunity to try the local cuisine made from the freshest ingredients.

Street Food Stalls: If you're on the go, you can grab a quick bite from street food stalls. They typically offer quick, tasty options like sandwiches, grilled meats, and local snacks.

No matter where you choose to eat in Kotor, be sure to pair your meal with a local wine or rakija (a fruit brandy popular in the Balkans) for the full Montenegrin dining experience.
Accommodation in Kotor
Kotor offers a range of accommodations catering to different preferences and budgets, from luxury boutique hotels to affordable guesthouses and rentals. Here are some options:

Hotels: There are several hotels in and around Kotor, from luxury establishments to more budget-friendly options. Many offer amenities such as swimming pools, spa services, and restaurants. Some hotels, like the Hotel Vardar, are located within the Old Town itself, while others offer beautiful views of the Bay of Kotor.

Boutique Hotels and B&Bs: For a more intimate and personalized experience, consider staying in a boutique hotel or bed & breakfast. Often located in charmingly restored historic buildings, they offer a unique blend of comfort, style, and local character.

Apartments and Vacation Rentals: There are many self-catering apartments and vacation rentals available in Kotor. This can be a great choice if you prefer more privacy or are traveling with a family or group. Sites like Airbnb or Booking.com list a wide range of options.

Hostels: If you're traveling on a budget or looking to meet other travelers, Kotor has several hostels. They offer dormitory-style rooms, private rooms, and often have communal kitchen facilities and social events.

Guesthouses and Pensions: These often family-run establishments offer comfortable rooms, usually with breakfast included. They can be a great way to experience Montenegrin hospitality.

Campsites and Eco-Lodges: If you're up for an adventure and prefer to be closer to nature, there are camping facilities and eco-lodges in the wider Kotor region. They offer unique accommodation options, from tents to cabins, in beautiful natural settings.

When booking accommodation in Kotor, consider factors like the location, the type of accommodation that suits your needs and preferences, and your budget. The summer months (July and August) are the peak tourist season in Kotor, so it's advisable to book in advance if you plan to visit during this period.
Travel Insurance
It's time to explore with total confidence with our competitive and comprehensive travel insurance underwritten by the AXA Group.
 

Emergency Assistance 24/7 - 365

 

Personal Accident Up to £25,000

 

Cancellations Per Person Up to £5,000

 

Emergency Medical Expenses Up to £15 million

 

Delayed & Missed Departure Cover

 

 Baggage Cover